Hotel Information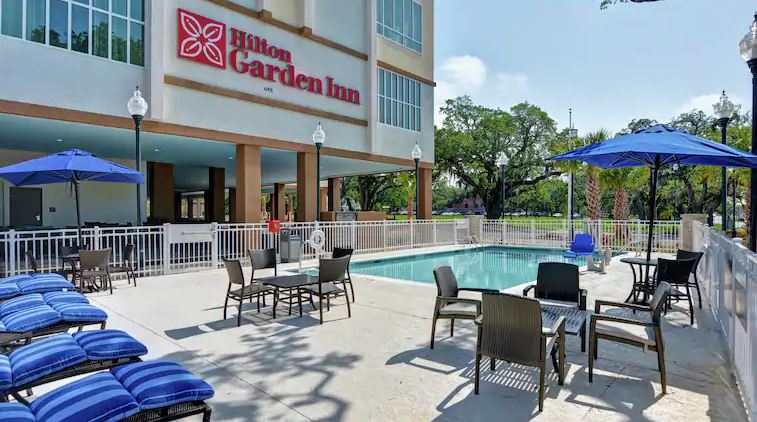 Hilton Garden Inn Biloxi | 648 Beach Blvd., Biloxi, Mississippi 39530 | 228-325-2900 | Check -in 3:00pm | Check-out 12:00pm
Method of Reservation: Guest will have the ability to book reservations at a special discount of $114/night for single or Double. Additional rates, fees may apply. Also available at a discounted rate they have a Suite, Suite GV or Prem GV, please contact the Hilton directly to upgrade.
Remember to ask for Group Code: REEA
Online Group webpage automatically has our Group Rate
By contacting 1-877-STAYHGI ask for Group Code: REEA
Calling locally at 228-325-2900 ask for Group Code: REEA
Each individual guest is responsible for their own incidental charges. Incidental charges must be paid in full prior to the guest's departure, with individual credit being established upon check-in. I order to receive this special discount you must make your reservations no later than 01/11/2021. After this date, HGI will only be accepted based on availability and at the prevailing Hotel rate. no guarantee on rooms and/or rate. To confirm a sleeping room the sleeping room must be secured with a valid credit card. Individual Cancellation: Individuals shall have up to 7-day prior to arrival to cancel reservations without penalty. Cancellation penalty shall not exceed one night's room and tax.
Area Information
Official Website of the City of Biloxi
Hilton Garden Inn Biloxi is next to US-90 across from the Biloxi Harbor, the Hard Rock Casino, and the Beau Rivage Casino. The local restaurants of downtown Biloxi are within a 10-minute walk. Biloxi Beach and Lighthouse are a mile away.
Cancellation Policy
REEA DREI Summit Cancellation Policy:
Cancellations received after December 31, 2020 will receive a refund of 50% of registration fee paid.
There is no refund for cancellations received after January 10, 2021.
By Registering I understand and agree to the following:
Pictures/videos of me will be taken during sessions.
All sessions may be recorded and are the sole ownership of REEA.
My contact information will be displayed in the Event Tab on REEA.org.
I therefore agree to release Real Esate Educators Association "REEA", and its Members, Board of Directors, Officers and Council of any and all liability that may occur from the above items 1-3.
Nationwide Event Inclement Weather Policy:
Since REEA makes financial obligations based on the number of registrations and exhibitor spaces sold for events, registration fees cannot be refunded unless the event is cancelled by REEA due to inclement weather and a registrant's written request is received within 14 days of the event start date. If REEA cancels the event due to weather, REEA will issue a credit for the registrant upon written request, which may be applied within twelve (12) months either to the next scheduled REEA Conference or another REEA event. All requests for credit must be in writing and emailed/mailed to the REEA Office at the address below with appropriate proof of travel cancellation within 14 days of the event's start date.
No refunds will be given for cancellations due to weather if the event itself is not cancelled. REEA will not refund any travel expenses that may be incurred under any circumstances. All requests for cancellation refunds must be in writing and emailed/mailed to the REEA Office at the address below within 14 days of the event start date with appropriate proof of travel cancellation. All refunds due to an illness, injury, death or emergency will be considered on a case by case basis by the REEA Executive Director.
Note: Your Name, city, state, phone and email will be avaible to all REEA Members as an attendee of this conference.
Inquiries and Questions are to be sent to:
Real Estate Educators Association
Kris Inman, National Executive Director
Kris@REEA.org
REEA Headquarters
7739 E. Broadway, #337 | Tucson, AZ 85710 | 520.609.2380 | Fax: 520.296.6006
Use this tab to download the latest event roster, which includes everyone registered for the event as of this moment.
You must be logged in to access the event rosters. You will be prompted to login when you click the links below.