Hotel Information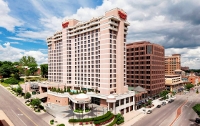 Sheraton Suites Country Club Plaza 770 W 47th St, Kansas City, MO 64112
Reservations for the Event will be made by individual attendees directly with Marriott reservations at 1-800-325-3535 or (816) 931-4400 or you can use this link to book directly using this link. Special rate of $129/night ++ received on or before Thursday, January 6, 2022 at which time group rate is not guaranteed. This special rate has been offered for January 27-29, 2022.
Use this link to book your stay today! Book your group rate for Real Estate Educators Assn DREI Summit
Last day to Book: Thursday, January 6, 2022
Sheraton Suites Country Club Plaza for $129 USD per night
Area Information

Local Dining and Shopping at the Country Club Plaza
Click to access their website and for more information
Attire Information
Business/Business Casual
Cancellation Policy
2022 REEA DREI Summit Registration Cancellation Policy:
All cancellation requests must be in writing with the reason for cancellation and sent to REEA Headquarters via email to Kris@REEA.org.
Cancellations received prior to midnight on December 1, 2021 will receive a full refund.
There is a $100.00 cancellation fee for all cancellations received after December 1, 2021.
There is no refund for cancellations received after January 1, 2022.
Due to unforseen changes with the COVID-19 Pandemic and REEA needs to cancel/postpone this event, your Registration fee will be returned and/or transferred to a future REEA DREI Summit. All other costs involved with your travel, lodging and/or any other expenses incurred by you is your responsibility. REEA, REEA DREI Leadership Council and REEA's Board of Directors have the right to make changes to these policies at anytime.
Nationwide Event Inclement Weather Policy:
Since REEA makes financial obligations based on the number of registrations and exhibitor spaces sold for events, registration fees cannot be refunded unless the event is cancelled by REEA due to inclement weather and a registrant's written request is received within 14 days of the event start date. If REEA cancels the event due to weather, REEA will issue a credit for the registrant upon written request, which may be applied within twelve (12) months either to the next scheduled REEA Conference or another REEA event. All requests for credit must be in writing and emailed/mailed to the REEA Office at the address below with appropriate proof of travel cancellation within 14 days of the event's start date.
No refunds will be given for cancellations due to weather if the event itself is not cancelled. REEA will not refund any travel expenses that may be incurred under any circumstances. All requests for cancellation refunds must be in writing and emailed/mailed to the REEA Office at the address below within 14 days of the event start date with appropriate proof of travel cancellation. All refunds due to an illness, injury, death or emergency will be considered on a case by case basis by the REEA Executive Director.
Acceptance: Your Name, city, state, phone and email will be avaible to all REEA Members as an attendee of this Summit.
Inquiries and Questions are to be sent to:
Real Estate Educators Association
Kris Inman, National Executive Director
Kris@REEA.org
REEA Headquarters
7739 E. Broadway, #337 | Tucson, AZ 85710 | 520.609.2380 | Fax: 520.296.6006
Use this tab to download the latest event roster, which includes everyone registered for the event as of this moment.
You must be logged in to access the event rosters. You will be prompted to login when you click the links below.