Hotel Information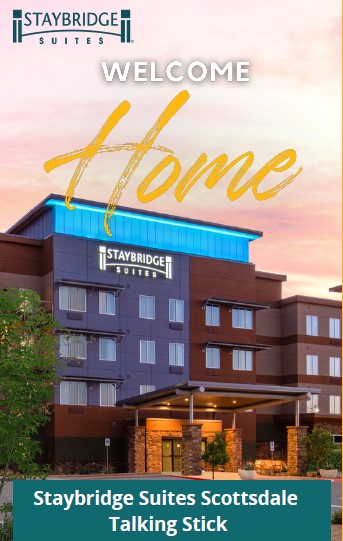 STAYBRIDGE SUITES SCOTTSDALE, Talking Stick located at 9141 E Hummingbird Lane in Scottsdale, AZ 85250 USA
Use this link to book your hotel stay or call the hotel front desk at 480-291-5175 and be sure to ask for the REEA DREI Summit 2024 discount.
REEA has negotiated 40 Studio King rooms at a special rate of $219++/night and 10 One-Bedroom King at a special rate of $229++/night. This rate is available until December 20, 2023 or until our Room Block is full. After said date, there is no guarantee of rooms and/or special rate. We recommend that you book your hotel stay ASAP as there is a huge auto action in town during this time and all hotels are already booking up. Click here to book your room!
HOTEL PARKING: On-Site Parking Available - Staybridge Suites will not be liable for any damage or theft caused to any motor vehicle, or contents thereof, while parked in the hotel's parking lot.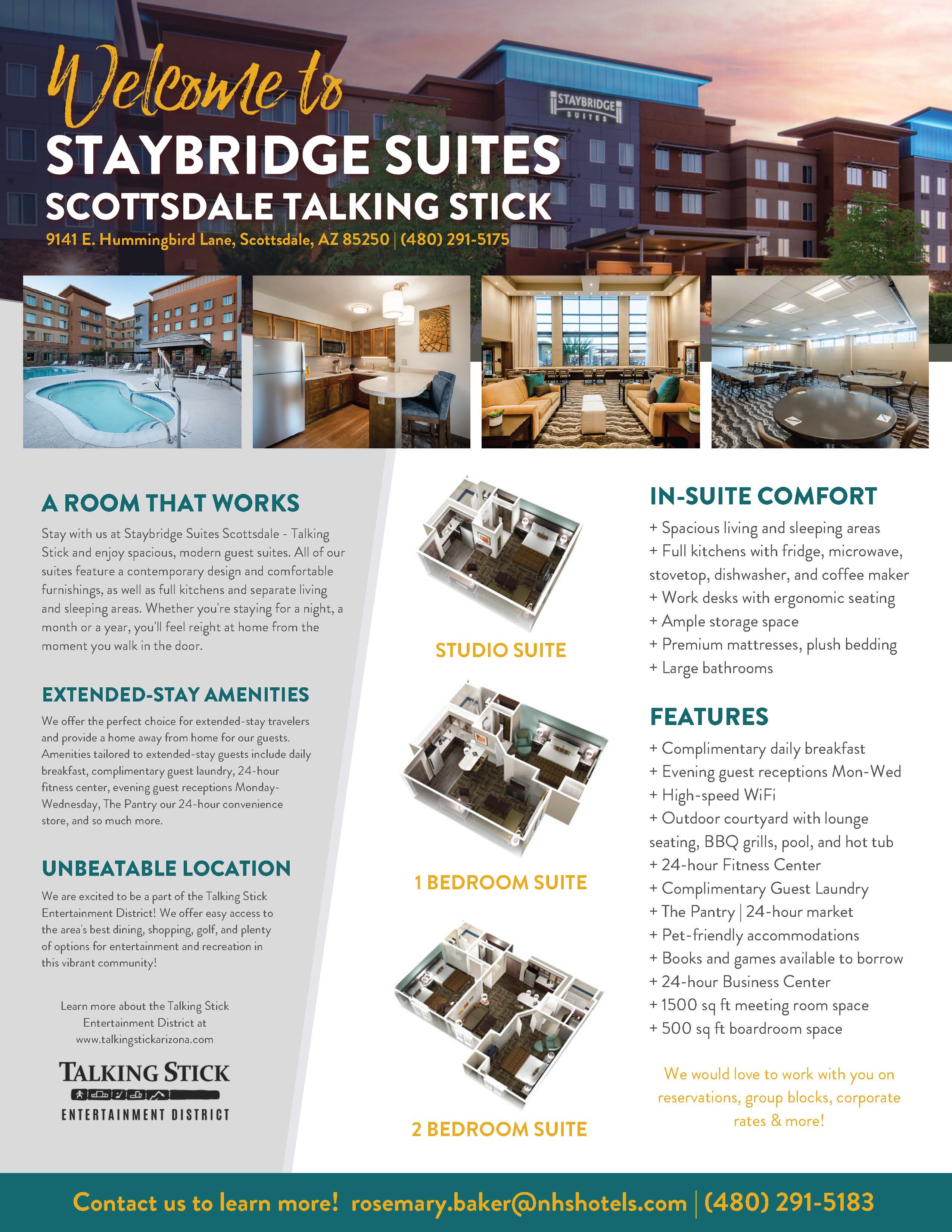 A great location in the Talking Stick Entertainment District - nearby shopping, dining and plenty ofoptions for entertainment and recreation
Area Information
EXPLORE SCOTTSDALE!
SALT RIVER FIELDS AT TALKING STICK - 7555 N Pima Rd, Scottsdale, AZ 85258
The spring training home of the Arizona Diamondbacks and Colorado Rockies. The facility raises the bar for major league baseball spring training. They are surrounded by some of the most beautiful mountain views in all of baseball. The unique layout of the campus will put fans on top of all the action and up close to their favorite players from the major leagues. Outside of spring, Salt River Fields hosts many other events large and small. From food festivals and concerts to corporate functions.
ODYSEA IN THE DESERT - 9500 E Via De Ventura, Scottsdale, AZ 85256
Home to OdySea Aquarium, Butterfly Wonderland, Bodies Revealed, Pangaea Land of the Dinosaur, Lazer and MIrror Maze, and Dolphinaris. Dine in one of the many restaurants, Modern Grove Views, El Canto, Pangaea Dinosaur Grill, Johnny Rockets, Humble Pie, Docktails Beach Café
IFLY INDOOR SKYDIVING - 9206 East Talking Stick Way, Scottsdale, AZ
Indoor skydiving is the simulation of true freefall conditions in a vertical wind tunnel. The invention of modern wind tunnels has given skydivers a consistent and practical way to develop and hone skills that usually require jumping from a plane. Additionally, the increase in availability of wind tunnels has created a whole new genre of sport – bodyflight. It is one of the most exciting and fastest growing sports in the world. Learn more about the sport and how you can get involved!
TALKING STICK RESORT AND CASINO - 9800 E Talking Stick Way, Scottsdale, AZ
Nestled in the heart of Talking Stick Entertainment District with 6 restaurants, Casino gaming to include, slot machines, Keno, BlackJack, Casino War, The Arena Poker Room, Pai Gow, and nightly entertainment. The showroom features 650 seat cabaret style entertainment also the home toThe Spa at Talking stick.
OCTANE RACEWAY - 9119 E Indian Bend Rd, Talking Stick Way, Scottsdale, AZ 85250
The high-speed race karts carve up the corners and fly down the straightaways up to 45 MPH on a challenging road course. Their 1/3 mile track is the only full time Indoor/Outdoor track in the entire United States! Experience the Ultimate Adrenaline Rush! Route 66 Lounge offers Mini bowling, There is also an Arcade, Brickyard Patio with bag toss, and Trackside Bar and Grill.
ROADHOUSE CINEMA - 9090 Talking Stick Way, Pavilions At Talking Stick, Scottsdale, AZ 85250
The best movie theater experience you will ever have. Enjoy a movie and dining experience nowhere else in Arizona. Open 365 days a year, Roadhouse offers an extraordinary restaurant menu created by an award winning chef and restauranteur, an impressively creative full bar high quality wines and Arizona craft beer. It also has overwhelmingly comfortable recliners, all to be enjoyed with state of the art projection and surround sound.
CASINO ARIZONA - 524 N 92nd S, Scottsdale, AZ 85256
Win your way at casino Arizona, your home for the hottest gaming action around phoenix and Scottsdale, AZ. The valley's best Bingo value, more than 900 ticket pay multi denominational slot machines, including many high limit slots, plus live Blackjack, other table games and live fast action Keno.
Transportation Information

AIRPORT
SHUTTLE INFORMATION
Local Shuttle - There are no Local Shuttle available at this hotel.
Ground Transportation information link
DRIVING DIRECTIONS From the Airport to Staybridge Suites
Approx 17 min (14.6 miles) per Google Maps
Continue to E Sky Harbor Blvd 3 min (1.3 mi)
Take AZ-202 Loop E and AZ-101 Loop N to Talking Stick Way.
Take exit 44 from AZ-101 Loop N13 min (13.5 mi)
Continue on Talking Stick Way and N Pavilions Blvd Go straight to end, take a right.
Welcome home!
Attire Information
Business - Business Casual
Additional Information
We will have 2-classrooms set up for Candidate video recording sessions. These will be held at:
The Arizona School of Real Estate and Business | 7350 North Dobson Road, Suite 120 | Scottsdale, AZ 85256 (approx 6 minute drive from Hotel)
Staybridge Suites Scottsdale meeting room - Summit Location
We will provide a 15 person shuttle to take you back and forth to the school.
Cancellation Policy
2024 REEA DREI Summit Registration Cancellation Policy:
All cancellation requests must be in writing with the reason for cancellation and sent to REEA Headquarters via email to Kris@REEA.org.
Cancellations received prior to midnight on December 1, 2023 will receive a full refund.
There is a $100.00 cancellation fee for all cancellations received after December 1, 2023.
There is no refund for cancellations received after January 1, 2024.
Due to unforseen changes with the CDC and REEA needs to cancel/postpone this event, your Registration fee will be returned. All other costs involved with your travel, lodging and/or any other expenses incurred by you is your responsibility. REEA, REEA DREI Leadership Council and REEA's Board of Directors have the right to make changes to these policies at anytime. If you need to cancel your registration due to reasons of illness, etc. you must submit a letter in writing requesting a full refund with your reason why. Again, all other costs involved with your travel, lodging and/or any other expenses incurred by you is your responsibility.
Nationwide Event Inclement Weather Policy:
Since REEA makes financial obligations based on the number of registrations and exhibitor spaces sold for events, registration fees cannot be refunded unless the event is cancelled by REEA due to inclement weather and a registrant's written request is received within 14 days of the event start date. If REEA cancels the event due to weather, REEA will issue a credit for the registrant upon written request, which may be applied within twelve (12) months either to the next scheduled REEA Conference or another REEA event. All requests for credit must be in writing and emailed/mailed to the REEA Office at the address below with appropriate proof of travel cancellation within 14 days of the event's start date.
No refunds will be given for cancellations due to weather if the event itself is not cancelled. REEA will not refund any travel expenses that may be incurred under any circumstances. All requests for cancellation refunds must be in writing and emailed/mailed to the REEA Office at the address below within 14 days of the event start date with appropriate proof of travel cancellation. All refunds due to an illness, injury, death or emergency will be considered on a case by case basis by the REEA Executive Director.
Acceptance: Your Name, city, state, phone and email will be avaible to all REEA Members as an attendee of this Summit.
Inquiries and Questions are to be sent to:
Real Estate Educators Association
Kris Inman, National Executive Director
Kris@REEA.org
REEA Headquarters
7739 E. Broadway, #337 | Tucson, AZ 85710 | 520.609.2380 | Fax: 520.296.6006